Clients
What our clients are saying about us.
"I have been working with JW Accountancy for five years, throughout which they have been worth their accumulative weight in Gold. My business has grown exponentially and they have supported and advised me along the way. Unrivalled efficiency, professionalism and incredibly warming to deal with. I cannot recommend or praise JW enough. Especially Leesa, she is one in a million ;-)"
Dean Graves, Director, Bigabox Productions, Shoreditch, London, t: 0800 2289700
"Jane took on our accounting needs at a time when the business was just starting out. She made sure every step of what we needed to do for the business, was done and done perfectly! She is very precise, organized and does exactly what you need in speedy time, so there is no doubt you and your business are in a safe pair of hands."
Gordon King, Director - The Big Production House
"JW Accountancy has always been friendly, helpful and 100% trustworthy. In a small business like ours it is absolutely invaluable to have a team that we can trust with all our financial dealings. JW Accountancy helps us make sense of our cash flow, payroll and tax liabilities; and in all the years we have worked with them they have never let us down."
Debra Rose, Proprietor, Debs Drainage, Birmingham, t: 0121 327 6677
"Jane has consistently provided an excellent service and is very competitive on pricing for her services. Jane clearly has an in-depth knowledge of her chosen subject and this is very reassuring when dealing with tax returns and accounts. She is ably assisted by a very competent team who are always polite and helpful. I would have no hesitation in recommending JW Accountancy Services."
Richard Smith, Goalden Events Limited, t: 07932 718108
"We have used JW Accountancy Services for some 10 years now. It has always been a pleasure to deal with Jane and her excellent team, they really take customer service seriously and they are always responsive to our questions and problems. It makes a real difference to have someone at the end of the phone who you can rely on."
M. Davies, Proprietor, Boldmere Health & Beauty, Boldmere Road, Sutton Coldfield, West Midlands, t: 0121 355 5858
"JW Accountancy services are always on the ball and keep me up to date with my accounts. They have saved me hard earned money through their expertise. Jane and her team are very easy to work with and their costs are very reasonable. I have no hesitation in recommending JW Accountancy Services. Year first hired 2010."
Sharon Hilton, Sport & Remedial Massage, Four Oaks, Sutton Coldfield, t: 0121 323 3502
"We have used JW Accountancy Services for a number of years; both for personal and business. Jane and her employees are very professional, articulate and personable to deal with at all times and very responsive to all requests at all times. I would recommend Jane to any business and have switched many of our friends and colleagues from other businesses to her with regard to the services she offers with extreme confidence."
Pete Thompson, Director Lloyd Morgan Group, Cannock, Staffordshire, t: 01543 670870
"Since our formation in 2012 we have seen substantial growth and expansion into new markets. It is no coincidence that our success has been in partnership with JW Accountancy. Jane and her team are very professional and friendly. They handle all our accountancy, payroll and HMRC matters. They are always available to give advice and provide information. Everyone on the team is a pleasure to work with. I have no hesitation in recommending JW Accountancy to other businesses"
John Roberts, Director HP Design Ltd, t: 0121 673 1957
Contact us...
Office Address
JW Accountancy Services
Corner Chambers
590A Kingsbury Road
Erdington, Birmingham
B24 9ND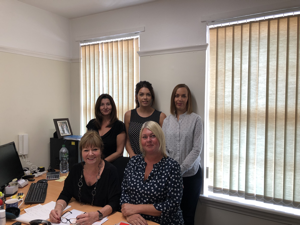 Vicki, Morgan, Naomi, Jane, and Leesa